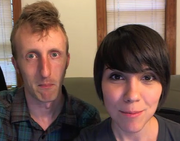 Baman Piderman is animated, written, and voiced by super fabulous couple Alex and Lindsay Small-Butera. Typically, Lindsay does the writing, boarding, and design, and Alex does the keyframing and voices.[1] Both Alex and Lindsay have active (and awesome!) tumblr pages: Lindsay, Alex. They were married in August 2010 a few months after Frow Da Party was released and before work began on Season 2.[2]The couple have also worked as one of the animators of Dick Figures: The Movie, and they now work on the Dick Figures series.
Lindsay writes for Baman Piderman. She is a Virgo, and her birthday is September 16. She gets her hair done by AJ.[1]
| | | |
| --- | --- | --- |
| " | I am a lot older than everyone else on the planet. | " |
Alex voices and animates the characters for Baman Piderman. He is a cool dude. His favorite non-computer game is Cards Against Humanity.[3]
| | | |
| --- | --- | --- |
| " | I HAVE THE BEST WIFEY. | " |
| | | |
| --- | --- | --- |
| " | Old man butts...tear you up inside. | " |
Interviews
Edit
Show Credits
Edit
Created and Written by Alex and Lindsay Small-Butera
Executive Producers: Aaron Simpson and John Evershed
Storyboards and Animation by Alex and Lindsay Small-Butera
Voices by Alex Small-Butera (Baman, Piderman, Those Guys) and Lindsay Small-Butera (Ghost)
Music by Adam and Alesha Burke (Happy Winter Friends)
After Effects by Evan Sussman (Ghost Night)
Special Thanks to Niki Foley, Katy Shuttleworth, Brian Butler (Ghost Night) and Jamie McKiernan, Dan Flynn (Happy Winter Friends)
References
Edit