MondoMedia
is the company that distributes
Baman Piderman
, and many other internet series.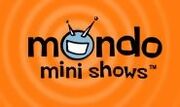 Mondo Media was founded in 1988 by John Evershend and Deirdre O'Malley in San Francisco, California.
Here is a list of the shows that Mondo Media currently, or previously has, produces or distributes.
Happy Tree Friends
Baman Piderman
Ka-Pow!
Dick figures
Joe Cartoon
Dr. Tran
BigFish
Candy Hole
Patrick Boivin
The Brothers Mcleod
CatSlap
The God and Devil Show
Black and White
Mr. Wong
Spike & Mike's
Queer Duck
Poker Night
Like,News
Zombie College
Hard Drinking Lincoln
Heavy Metal Guy
Thugs on Film
Starship Regulars
Elvis and Jack
Rock'n'Roll Dad
Jesus and his Brothers
Superhero Roomate
Supermodels
Navy Bear
Mini Bites
Acorn Madness (TBA)
The most popular of these shows is Happy Tree Friends.
Youtube has made MondoMedia a great sucess, with the most viewed video at over 20,000,000 views. The Series "Baman Piderman" "Happy Tree Friends" and Dick figures are the most popular series.
Ad blocker interference detected!
Wikia is a free-to-use site that makes money from advertising. We have a modified experience for viewers using ad blockers

Wikia is not accessible if you've made further modifications. Remove the custom ad blocker rule(s) and the page will load as expected.