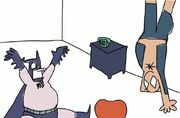 Description
Edit
Season 1 of Baman Piderman focuses mainly on the title characters, Baman and Piderman. The episodes in this first season are usually quite short (with the notable exceptions of Happy Winter Friends (Part 1) and Happy Winter Friends (Part 2)) focusing on a simple theme to create a peek into the minds of Baman and Piderman. However, as episodic as this first season is, it does expand the universe and develop the Characters in several different ways.
Characters
Edit
Season 1 introduces most of the characters in Baman Piderman and especially develops Baman and Piderman, firmly establishing their complementary character traits. Pumkin gets the second most character development as this season introduces him as a mere gourd that Baman brings over in Hab Da Pumkin, but after Happy Winter Friends (Part 2), Pumkin becomes whole, gaining a body and personality to create the Pumkinweknow and love today. Here is a list of all characters appearing in Season 1:
Season 1 introduces many aspects of the world including the meteoric snowflakes, the desolate, white landscape, and the Baman's and Piderman's houses.
The entire run-time of Season 1 is about 18 minutes, 29 seconds, which yields an average episode time of about 92 seconds.[1]
References
Edit