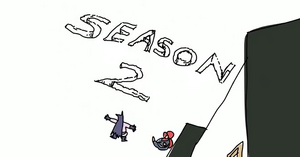 Description
Edit
Season 2 of Baman Piderman is a big step from Season 1 featuring much longer episodes on average, more development of Pumkin,Squib, and the Basement Monsters[1], and generally more serial rather than episodic episodes. Season 2 began production in 2010 after the marriage of the creators, Lindsay Small and Alex Butera.[2] Season 2 will run until the end of January 2013 most likely comprising 16 episodes, one released every other Wednesday.[3]
Characters
Edit
So far, Season 2 has only introduced one new character, Ghost, but this season has further developed many of the less prevalent characters, including Bug, the Basement Monsters, Pumkin, Squib, and Tuba.
Here is a list of all characters appearing in Season 2 as of episode 207:
Season 2 introduces the glass-like rain of the Baman Piderman World as well as the Days of the Week.[4]
The Season 2 sign in the snow is also present in Fimd Da Jobs suggesting that mini-sodes might be considered canon in the sense that they affect the greater Baman Piderman Universe.
References
Edit